Sinns & Thomas Electrical Contractors providing Industrial Electrical Services For Water and Wastewater Facilities, Solar Electrical Systems, and Industrial Facilities - Central Florida
Electrical Engineering Services in Central Florida
Sinns & Thomas completes many services within water, alternative energy, and industrial facilities.
Water & Wastewater Facilities
A large portion of Sinns & Thomas' business lies in water, wastewater treatment and water distribution facilities. Our high standards and quality installations have earned us a reputation as the best electrical contractors in our industry statewide.
Our projects range from ten thousand to ten million dollars in value. We have successfully completed jobs, on schedule, with fifty thousand or more man hours. We are proficient at numerous processes that are used to clean or treat wastewater and water supplies. We provide the electrical, instrumentation and controls for industrial-scale facilities which may include physical, chemical and/or biological treatment processes.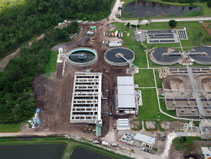 Water and wastewater management projects we excel at include:
landfill water recovery and treatment
cogeneration
reclaimed water for consumption
cooling towers and irrigation
microfiltration and synthetic membrane equipment and processes
microbial de-nitrification equipment and processes
ozone wastewater treatment equipment and processes
pumping stations and water wells
Many of our water and wastewater treatment plants are partnerships with General Contractors and Engineers for whom we provide Design-Build services. We team up to budget and design facilities with a game plan to be presented to the owner. We have been very successful in being awarded these projects and then, of course, building them.
---
Alternative Energy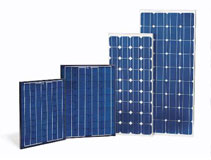 Alternative energy sources are here and will become the focus for business and individuals in the near future. We have responded ahead of our industry and have highly trained technicians that can design and install solar electrical systems right now.
The most viable alternative energy source at this time is solar, specifically photovoltaic solar panels that harvest energy from the sun. We work seamlessly with General Contractors, Architects, Inspectors and Energy Consultants to provide the most effective photovoltaic packages to tie into the grid and provide blackout protection. Our installations utilize proven technologies, long-lasting, reliable, efficient products, and professional alternative energy installations to get the most out of the costly PV panels for a greater return over the years.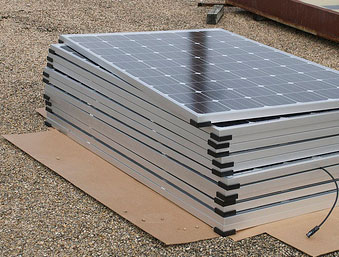 There are many unqualified installers out there, due to the newness of the industry, so many customers are not getting what they should out of their investments. We will make sure our clients do. Regulation of the industry is tightening and certifications and licensing are becoming more stringent. Sinns & Thomas is ahead of the curve - qualified and certified.
Sinns & Thomas has installed a 30-KW system at our home office to provide power for three buildings. You are welcome to schedule a visit and tour our facility to help you decide what is most suitable for you or your firm.
---
Industrial facilities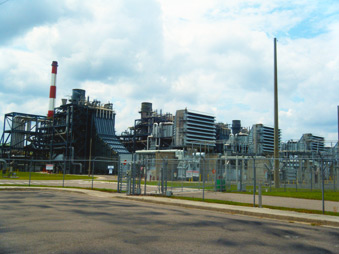 Sinns & Thomas also builds infrastructure for industrial power plants and industrial facilities. Our industrial installations usually consist of large duct banks, with considerable conduit and wire, buried deep in the ground with steel reinforced concrete encasement. We frequently utilize PVC-coated rigid galvanized steel conduit or aluminum raceways to protect our cables from the highly corrosive, attacking environments they are exposed to. During our operations, it is often necessary to implement a dewatering process with a system of wells.
We continue above grade with conduit systems for power, lighting, complex control systems, fire alarm systems, security systems, sound and paging systems, fiber optic and CAT5 data highway systems, grounding and lightning protection systems, uninterruptible power supplies, backup generation systems, and more, all of which we are certified and qualified.
Our industrial plant facility contractors the resources and expertise to perform all of the Industrial, Municipal and Environmental Electrical services and instrumentation required on a project.